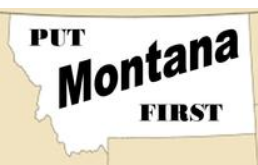 Means bringing opportunity to montanan's!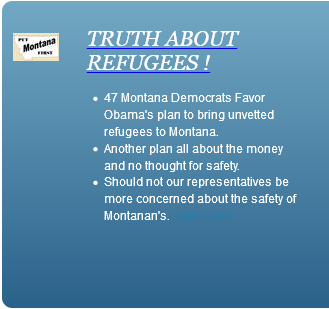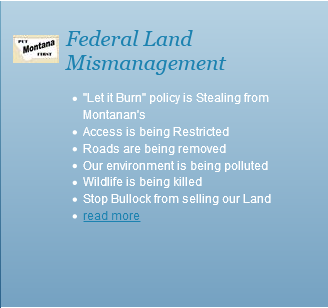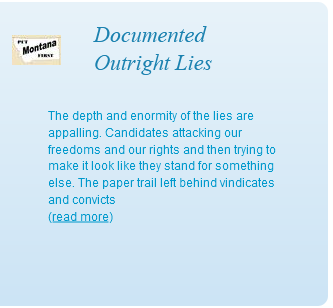 47 Montana Democrats Favor Obama's plan to bring unvetted refugees to Montana.
Another plan all about the money and no thought for safety.
Should not our representatives be more concerned about the safety of Montanan's.  read more
Federal Land Mismanagement
"Let it Burn" policy is Stealing from Montanan's
Access is being Restricted
Roads are being removed
Our environment is being polluted
Wildlife is being killed
Stop Bullock from selling our Land
The depth and enormity of the lies are appalling. Candidates attacking our freedoms and our rights and then trying to make it look like they stand for something else. The paper trail left behind vindicates and convicts
Putting Montana First with information about Doing what's Right!
Democrats who signed the letter supporting Syrian Refugees!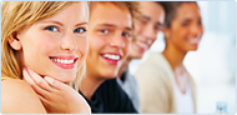 How do you Sort through the political BS to know who truly supports Putting Montanan's First: Most of us do not have the time to sift for the Truth.
in recent years the political agendas and the Special interests have taken first place in politics. Truth is, everyone can't be right, and we are past the time when we can afford to follow the wrong person.
The individuals before us, seeking our support, leave a trail of evidence as to who they are and what they are about.
This site is about laying out the documentation that reveals who the track record that they might be hiding so that you the voter can make the best decision for you and future generations.
Legislators who signed the letter asking that Syrian Refugees be blocked from Montana!
Senate President Debby Barrett, R-Dillon;
Sen. Duane Ankney, R-Colstrip;
Sen. Elsie Arntzen, R-Billings;
Sen. Mark Blasdel, R-Kalispell;
Sen. John Brenden, R-Scobey;
Sen. Dee Brown, R-Hungry Horse;
Sen. Taylor Brown, R-Huntley;
Sen. Ed Buttrey, R-Great Falls;
Sen. Pat Connell, R-Hamilton;
Sen. Kristin Hansen, R-Havre;
Sen. Jedediah Hinkle, R-Bozeman;
Sen. David Howard, R-Park City;
Sen Llew Jones, R-Conrad;
Sen. Doug Kary, R-Billings;
Sen. Bob Keenan, R-Bigfork;
Sen. Rick Ripley, R-Wolf Creek;
Sen. Matt Rosendale, R-Glendive;
Sen. Scott Sales, R-Bozeman;
Sen. Cary Smith, R-Billings;
Sen. Nels Swandal, R-Wilsall;
Sen. Janna Taylor, R-Dayton;
Sen. Fred Thomas, R-Stevensville
Sen. Bruce Tutvedt, R-Kalispell;
Sen. Roger Webb, R-Billings;
Sen. Fred Thomas, R-Stevensville;
Sen. Brian Hoven, R-Great Falls.
House Speaker Austin Knudsen, R-Culbertson;
Rep. Nancy Ballance, R-Hamilton;
Rep. Randy Brodehl, R-Kalispell;
Rep. Mike Cuffe, R-Eureka;
Rep. Alan Doane, R-Bloomfield;
Rep. Ron Ehli, R-Hamilton;
Rep. Jeff Essmann, R-Billings;
Rep. Frank garner, R-Kalispell;
Rep. Carl Glimm, R-Kila;
Rep. Ed Greef, R-Florence;
Rep. Dave Hagstrom, R-Billings;
Rep. Greg Hertz, R-Polson;
Rep. Mike Lang, R-Malta;
Rep. Sarah Laszloffy, R-Billings;
Rep. Theresa Manzella, R-Darby;
Rep. Wendy McKamey, R-Great Falls;
Rep. Bruce Meyers, R-Box Elder;
Rep. Mike Miller, R-Helmville;
Rep. Matthew Monforton; R-Bozeman;
Rep. Al Olszewski, R-Kalispell.
Rep. Keith Regier, R-Kalispell;
Rep. Vince Ricci, R-Laurel;
Rep. Tom Richmond, R-Billings;
Rep. Dan Salomon, R-Ronan;
Rep. Nicholas Schwaderer, R-Superior;
Rep. Brad Tschida, R-Missoula;
Rep. Jeffrey Welborn, R-Deer Lodge;
Rep. Kerry White, R-Bozeman;
Rep. Art Wittich, R-Bozeman;
Rep. Daniel Zolnikov, R-Billings;
Sen Dick Barrett, D- Missoula
Sen Mary Caferro, D-Helena
Sen Jill Cohenour, D-East Helena
Sen Robyn Driscoll, D-Billings
Sen Tom Facey, D-Missoula
Sen Christine Kaufmann, D-Helena
Sen Cliff Larsen, D-Missoula
Sen Sue Malek, D-Missoula
Sen Mary McNally, D-Billings
Sen Mary Moe, D-Great Falls
Sen Mike Phillips, D-Bozeman
Sen J.P. Pomnichowski, D-Bozeman
Sen Diane Sands, D-Missoula
Sen Jon Sesso, D-Butte
Sen Sharon Stewart-Peregoy, D-Crow Agency
Sen Jonathan Windy Boy, D-Box Elder
Sen Cynthia Wolken; D-Missoula
Reps. Bryce Bennett, D-Missoula
Zach Brown, D-Bozeman
Virginia Court, D-Billings
Willis Curdy, D-Missoula
Mary Ann Dunwell, D-Helena
Jenny Eck, D-Helena
Janet Ellis, D-Helena
Moffie Funk, D-Helena
Denise Hayman, D-Bozeman
Ellie Boldman Hill, D-Missoula
Jessica Karjala, D-Billings
Kathy Kelker, D-Billings
Ed Lieser, D-Whitefish
Ryan Lynch, D-Butte
Margie MacDonald, D-Billings
Kelly McCarthy, D-Billings
Nate McConnell, D-Missoula
Andrea Olsen, D-Missoula
Carolyn Pease-Lopez, D-Billings
Rae Peppers, D-Lame Deer
From The Flathead
Zac Perry, D-Hungry Horse
Andrew Person, D-Missoula
Chris Pope, D-Bozeman
Jean Price, D-Great Falls
Casey Schreiner, D-Great Falls
Kathy Swanson, D-Anaconda
Susan Webber, D-Browning
Kathleen Williams, D-Bozeman
Nancy Wilson, D-Missoula
Tom Woods, D-Bozeman